About the Choir
The London Philharmonic Choir was founded in 1947 as the chorus for the London Philharmonic Orchestra.
Working under conductors such as Boulez, Elder, Gatti, Haitink, Jurowski, Masur, Nézet-Séguin, Norrington, Rattle, Solti, Tennstedt and Welser-Möst, the Choir has always met with critical acclaim. Now widely regarded as one of the nation's finest choirs, we perform regularly with the LPO and other world-class orchestras at major venues and festivals throughout the year.
From time to time we tour abroad – recently to Budapest, Paris, Lucerne, Rome, Athens, Spain, Germany, the Czech Republic, Poland, the Canary Islands, and further afield to Hong Kong, Kuala Lumpur and Perth. In January 2004 we were invited to sing in the Vatican's Papal Concert of Reconciliation. We have also built up an impressive discography throughout our history and continue to participate in recordings for CD, radio and television.
Our standards are high, but it's not all hard work – we're a very friendly and relaxed choir, enjoying not only the singing but a bit of socialising too. You'll find out more about what we do – including information about joining us – on the following pages.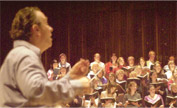 "The orchestral playing was wonderfully vibrant, and the choral singing outstandingly secure and controlled throughout, the polyphony crystal clear over a wide dynamic range."
Beethoven Missa Solemnis, Elder
The Guardian
Concerts in 2020 and 2021 include
John Adams Harmonium Edward Gardner*
Beethoven Cantata on the Death of Emperor Joseph II Vladimir Jurowski*
Beethoven Choral Fantasy Daniele Rustioni*
Beethoven Symphony No. 9 Neville Creed*
Beethoven Symphony No. 9 Daniele Rustioni*
Busoni Piano Concerto Sir Antonio Pappano*
Jonathan Dove Vadam et circuibo civitatem Thomas Søndergård†
Enescu Symphony No. 3 Vladimir Jurowski*
Fauré Requiem Bertrand de Billy
Sofia Gubaidulina Über Liebe und Hass Edward Gardner
Handel Zadok the Priest Daniele Rustioni*
Janáček Glagolitic Mass Edward Gardner*
James MacMillan Christmas Oratorio Vladimir Jurowski*
Mahler Symphony No. 2 Klaus Mäkelä
Poulenc Seven Tenebrae Responses Bertrand de Billy
Szymanowski Symphony No. 3 Thomas Søndergård*
Wagner Götterdämmerung Vladimir Jurowski*
* These concerts have been cancelled due to unforeseen circumstances.
† Streamed concert
Next concert

Jonathan Dove Vadam et circuibo civitatem
Saturday 5 December 2020
8.00 pm, Marquee TV
Streamed concert

Thomas Søndergård conductor
Alexander Gavrylyuk piano
London Philharmonic Orchestra
London Philharmonic Choir
Ravel Le tombeau de Couperin
Schubert Symphony No. 6
Jonathan Dove Vadam et circuibo civitatem (a cappella)
Prokofiev Piano Concerto No. 3
This concert will be filmed live at the Royal Festival Hall by Silent Studios and will be broadcast online by the LPO's streaming partner Marquee TV. The concert will premiere at 8pm on Saturday 5 December and will be available for you to enjoy at home free of charge for an initial 7-day period.