HALLELUJAH! – The Book
Hallelujah! An informal history of the London Philharmonic Choir
Ever since its first concert in 1947, the London Philharmonic Choir
has retained its position at the forefront of the British choral
tradition. 'Amateur' in the best sense of the word (its members love
singing but don't get paid for the privilege!), the LPC has given
magisterial performances, many of them broadcast or recorded, of all
the great choral classics. If over the years you have caught
outstanding renditions of the Beethoven 'Choral' Symphony or Missa
Solemnis, Mahler's 'Resurrection' Symphony or his 'Symphony of a
Thousand', the great Elgar oratorios or the settings of the Requiem
by Mozart, Verdi, Brahms or Britten – chances are you were listening
to the London Philharmonic Choir. Especially if the performance was
conducted by one of its regular conductors, among them Sir Adrian
Boult, Bernard Haitink, Sir Georg Solti, Klaus Tennstedt, Kurt Masur
or (nowadays) Vladimir Jurowski.
Why do people choose to join a choir like the LPC, how do you get in
– and what's it like once you are a member? What are some of the
highlights – and lowlights – in the Choir's history? How does the
relationship work between the Choir and its 'mother' orchestra, the
London Philharmonic Orchestra? What's it like rehearsing and
performing under the world's top conductors? And what really goes on
during those foreign tours, of which the LPC has had so many in
recent years?
Daniel Snowman joined the London Philharmonic Choir in spring 1967.
Well-known as a writer and broadcaster on matters musical, Snowman
interweaves his own vivid recollections of life in the LPC with those
of fellow members and others associated with the Choir and its history.
The result is a richly evocative portrait of a
hitherto largely ignored aspect of British musical life since the war.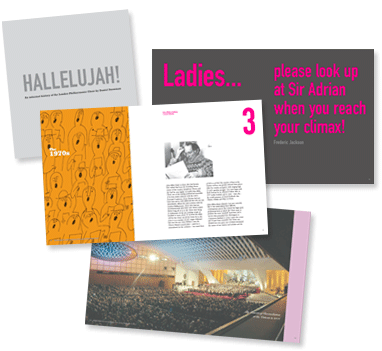 Buy your copy today
Hallelujah! An Informal History of the London Philharmonic Choir
is available from
Amazon,
Central Books (0845 458 9910)
the Royal Festival Hall Shop and Foyles at the Southbank Centre.
About the author
Daniel Snowman is an author, broadcaster and lecturer. His books
include critical portraits of the Amadeus Quartet and of Plácido Domingo,
a study of the cultural impact of the 'Hitler Emigrés' – and, most
recently, The Gilded Stage: A Social History of Opera.
See www.danielsnowman.org.uk