On Friday 6th May, we will be teaming up once more with Sir Karl Jenkins to perform his Requiem, as well as his most recent choral work, The Healer: A Cantata for St Luke. One of our tenors, and resident Jenkins junkie, Martin Yates, opens up about his globe-trotting experiences singing under Sir Karl:
Around the World with Sir Karl
19th January 2015, Carnegie Hall. Karl Jenkins' The Healer: Standing on stage, basking in the glow of a successful concert, it would be easy to feel we had "peaked" as singers. New York City was hardly where I had expected to end my tenure with the Exeter University Choral Society – and certainly not on the stage of one of the greatest concert halls in the world. For most, it felt like the peak, but little did I know it was only just beginning.
Now, this may seem like an odd way to start this blog – with another choir, on a completely different continent, but this was really where my love for the music of Karl Jenkins began. In the London Philharmonic Choir, I'm known as something of a Jenkins "Superfan" but, surprisingly, it has only been in the last two years that I have really been introduced to him.
My first time singing his work had been The Armed Man in Exeter Cathedral two years ago – my last concert (or so I had believed) with my University choir. That concert wound up being such a success that we were invited to perform 10 months later in the US premiere of The Healer, which we will also be performing in this concert. This will actually prove a first for me. For the first time in six years of singing, I will know a piece better than most, if not all, of the choir when we start to rehearse it!
The Unbelievable Becomes all too easy to Believe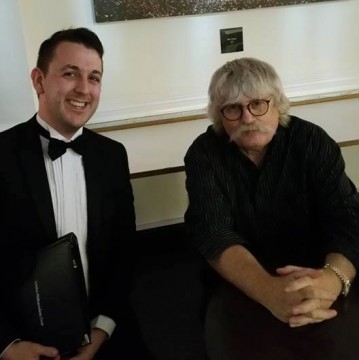 Since joining the London Philharmonic Choir in the autumn of 2014, I have often been told that these will be the experiences to tell children/grandchildren of, and to make friends and acquaintances envious of for years to come. Working with the most performed living classical composer, performing his works under his baton will most certainly be the type of experience people have referred to.
Amazingly, though, it is never "just" a one-off experience with LPC – this will be my third(!) time performing with Sir Karl. The first time felt like something of a miracle, but the joy of being part of LPC is that the unbelievable becomes all too easy to believe, and the exceptional soon becomes the norm. If you were ever looking to make your friends jealous, join a choir like this one!
From Discord to Unity
I have been looking forward to singing Jenkins' Requiem for a long time. One of the things I love most about Jenkins' work, and particularly the Requiem, is his emphasis on percussion, and how Jenkins uses the choir almost percussively.
I would argue this is most noticeable in the Dies Irae. In contrast to Verdi or Mozart, who demonstrate the emotional outpouring of anger in their versions of the Dies Irae, Jenkins instead opts for something subtler.
His Dies Irae is uniform, precise and calculating. Loud, emotional and unstable expressions of anger and grief are one thing – but the more precise and pulsating rage is far more dangerous and, in my opinion, far more thrilling because of this contrast.
United We Stand
Perhaps what resonates most with me about Jenkins' work though is the exploration of different cultures and musical styles within his works. From the middle eastern influences in his Stabat Mater (which we had the pleasure of performing with Jenkins last October), to the blending of Japanese Death Poems with the traditional Requiem mass, you can be sure that you will learn so much about music from other cultures.
I always find Jenkins' works to be a wonderful learning experience, and so I will always enjoy the opportunity to explore more of his work. By drawing influences from around the world, Jenkins also calls for unity between cultures, and a move away from conflict and war.
Jenkins states in The Armed Man that "Better is Peace", and this message resonates throughout Jenkins' works. United we stand. Music cannot right the world, but it can certainly bring those involved closer to unity.
Related Concert:
Karl Jenkins  Requiem
Friday 6 May 2016
7.30 pm,  Royal Festival Hall
Sir Karl Jenkins  conductor
Zands Duggan  percussion
Clive Bell  shakuhachi flute
Joo Yeon Sir  violin
Rosie Jenkins  oboe
Lucy Knight  soprano
Morgan Pearse  baritone
Palladio Orchestra of London
London Philharmonic Choir
Karl Jenkins  Palladio
Karl Jenkins  The Healer
Karl Jenkins  Lament for the Valley
Karl Jenkins  Requiem