On Saturday 25 November the Choir will be performing Mahler's Third Symphony with Robin Ticciati, Alice Coote, Trinity Boys Choir and the LPO. Issy Davies (soprano) is excited for her first performance of Mahler's music.
Early music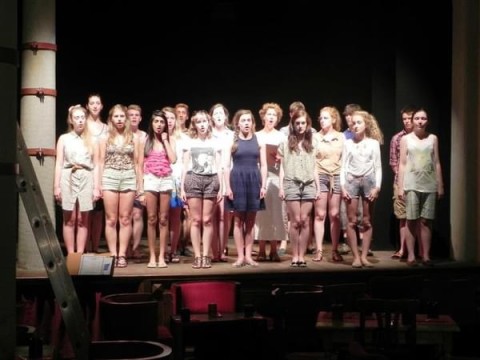 I can't wait to sing – My first Mahler! I grew up in Leeds and did lots of music at my school so I was really lucky in that – I play the oboe and joined all the bands and groups I could as well as singing in various choirs from around the age of 10.  I suppose my parents started me off on it because they love music, they always had Classic FM on in the car and mum played the oboe and got me into orchestras. My parents loved watching me perform so came to my concerts and dad used to take me to Opera North which was our little treat together; I even sang in some opera in my teenage years.
I left Leeds when I was 18 to come down to Uni in London to study physiotherapy and almost immediately joined the film music choir there as I love film music. During the three years I was a part of that I became quite friendly with the conductor who also had a choir outside of Uni so as soon as I left I joined his other choir – Carpe Harmonia. We did a big eclectic mix of music from gospel to Eric Whitacre and popular music to avant garde. I loved it! We also learned sight reading and music theory which I found really helpful. I sang with them for 5 or 6 years but sadly the choir closed down during Covid and I was left with a huge choir shaped hole in my life.
Back to singing
I really wanted to be in a choir again so when an old school friend of mine suggested I check out the choir she sang with I thought, why not … her choir was the LPC and they were doing Mozart Requiem at the time which I love so I decided to take the plunge and go for an audition. I was absolutely ecstatic when I got in – which was summer 2022 – and I couldn't believe my first concert was going to be The Dream of Gerontius in the Proms.  Singing in the Royal Albert Hall was on my bucket list so this was a fantastic full circle moment for me.
LPC fits well with my job as I work at Barts as a respiratory physiotherapist in ICU working with patients who've had big heart attacks, so I come to choir from there via the gym every Monday. My job is to look after the lungs of these patients when they're on a ventilator and I help to wean them off it and then work with speech and language to get their voices back and get them mobile again. We have a group at Barts called Singing for Health which works with patients with breathing problems so that fits very well with me – personally I think we should all be prescribed singing as it's so good for your health and well-being.
Since I've joined the LPC I've tried to sing everything on the schedule and I've loved all the pieces we've done so far – and their various challenges – from singing Tan Dun in Chinese and Berlioz in French to the atonal challenges of Tippett and a newly commissioned piece by Elena Langer. It was so fantastic to sing to the Amadeus movie in the Royal Albert Hall in October that I had to pinch myself when the film started and I saw 5,000 enraptured faces watching us. Sadly, I missed the Mahler 2 concert in September as it was our second wedding anniversary and my lovely husband had booked a special treat for us without realising it was on the concert day. He's super supportive and comes to almost all our concerts.
Bimm bamm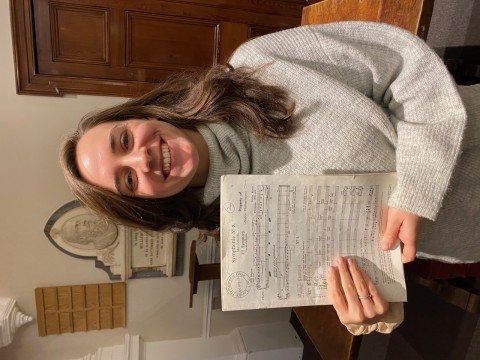 So next we're going to perform Mahler 3 and I can't wait to sing in my first Mahler. As usual I will be listening to it and practising at home, especially as I have never sung in German before. I love completely immersing myself in the piece I'm learning and then I feel I know it so well when it comes to performing. I'm excited when we go to the first rehearsal and I start to learn something new – and I enjoy when Neville gives us a bit of run-down of the piece and its background, along with who's conducting and singing with us. I'm really looking forward so singing in this piece as I've heard so much about it and it sounds like quite an epic and wonderful symphony.
The LPC is such a lovely choir and feels like a really nice community – you often sit with different people and everyone is really happy to share their experiences and stuff they've done. No-one judges you, everyone's excited for you to do well and to help you. I wasn't expecting that and was quite scared the first time I came – I thought everyone would be brilliant at everything and think I wasn't very good but I almost immediately felt welcomed and not judged at all as a newbie for not knowing things. Now I've been in the choir for just over a year I feel settled and that I really belong here. Singing is such a joy – doing it yourself is great but there's something special about doing it with a group of people. The harmonies are there, and the orchestra, and you just get a rush of pure joy.
Come and hear us
Saturday 25th November 2023
7.30 pm,  Royal Festival Hall
Robin Ticciati conductor
Alice Coote  mezzo-soprano
London Philharmonic Orchestra
London Philharmonic Choir
Trinity Boys Choir
Mahler Symphony No. 3