Our Chairman, Ian Frost, shares his thoughts on the current season – and the exciting one to come.
Today has seen the launch of the London Philharmonic Orchestra's 2017/18 season, a great programme of concerts and we're excited about the interesting selection of choral repertoire for us.
However, before looking at those concerts, it's perhaps worth looking back at 2016. It's fair to say that the 15/16 season was a slow year for our engagements with the LPO, with only four choral performances – something I recognised almost as soon as I became Chairman in April 2014. That we're already talking to the orchestra and others about the 18/19 season will give you an idea of the long-term planning process required in the Arts. It's sometimes very odd to be rehearsing something you negotiated two years previously!
Unforgettable
But the calendar year of 2016 was one of the best on record: no big tours, but some of the very best choral concerts and performances we've ever produced. Twice during the year Neville Creed, our Artistic Director, had declared performances to have been the best he'd ever heard us sing.
Who could possibly forget the Brahms German Requiem with Eschenbach or Jurowski's Beethoven Symphony No. 9 at the Proms – two of the standout concerts I've ever taken part in. In between those was a first for the choir – Der Freischütz, the semi staged opera from Weber – which was our first concert with Sir Mark Elder as our President. He was thrilled with the performance, and something we'll look to repeat in the future.
After the summer break, the 2016/17 season kicked off properly with the fabulous Missa Solemnis, again with Sir Mark Elder, followed just the week after with the Berlioz Requiem with François-Xavier Roth leading us and the BBC Symphony Chorus. I remember him turning up at the rehearsal venue East London and wondering who he was, and he turned out to be a most unexpected but wonderful conductor who was a pleasure to work with. The Requiem was a logistical nightmare of a work, but thrilling all the same. Lastly we had a most splendid Messiah, something which may well become a regular fixture from 2018 onwards, and a truly wonderful Christmas bash at the Royal Albert Hall.
More to come
As for the rest of the season, the best is yet to come: Haydn's Creation with Sir Roger Norrington, in a couple of weeks' time, then a Mozart Requiem with Nathalie Stutzmann, followed by our big 70th birthday treat of the Mahler Symphony No. 8, not forgetting Tallis' Spem in Alium.
It doesn't even end there, with an Eschenbach Beehoven Symphony No. 9, a possible tour and then for the men a trip up to Manchester to help the Halle with their performance of Schoenberg's Gurrelieder.
One other event in 2016 is worthy of note. Tessa Bartley (our Choir Manager) and I attended Buckingham Palace at the invitation of HM the Queen and our patron, HRH Princess Alexandra. We today publish the official photos of that evening. I can assure you Tessa and I represented the choir very well, enjoying the canapes and champagne on behalf of all our members, and meeting other charities for whom Princess Alexandra is patron.

So truly a fabulous year.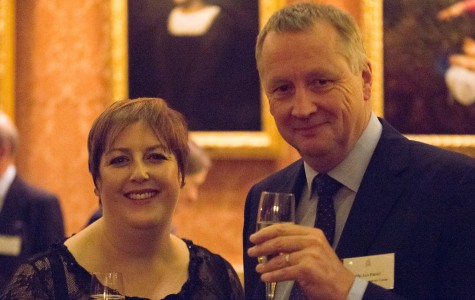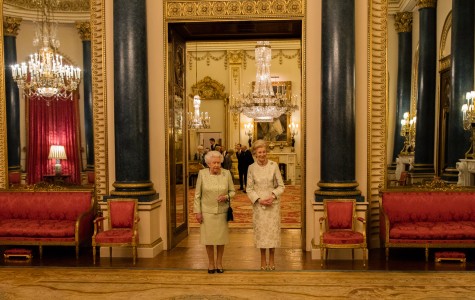 And so to 2017/2018
It is sometimes a frustrating feature of orchestral programming that, like buses you can go ages without one, then two or three turn up at the same time. Thus we're performing Rossini's Stabat Mater on the 21st of October with Daniele Rustioni, then just four days later Peteris Vasks's Dona Nobis Pacem.
The Rossini is known to many of us, but the Vasks is certainly not. It's also only our second chance to sing with Andrès Orozco-Estrada, the Orchestra's Principle Guest Conductor. After that a rest, before Bach's Christmas Oratorio with Vladimir Jurowski; the full work, not just selections. This will include a second performance in Paris the day afterwards.
In between we have the annual trip to the Royal Albert Hall for Classical Spectacular. My favourite part of this concert is to watch newbie singers' faces as the evening goes by, not quite believing what they're seeing! We can expect a couple of Christmas concerts also, again with the promoter, Raymond Gubbay. Then we've a break until an evening of Stravinsky choral works, including his Symphony of Psalms and Bernstein's Chichester Psalms, again with Andrès Orozco-Estrada. Last up for this season is another Stravinsky, this time his Mass, with Vladimir Jurowskki.
So a very different season to 2016/17 – not so many well known works, but the opportunity to sing with four different conductors. All these are big, challenging sings, requiring significant rehearsal time. It's a testament to the quality of our performances that the London Philharmonic Orhcestra and conductors are prepared to trust us with more demanding works. In some respects 2016/17 is an easy season for us. Well known standard repertoire; works that everyone wants to sing.
2017/18 requires that we again raise our game, stretch ourselves and of course sing wonderful music!