Today the London Philharmonic Orchestra launches its 2019/2020 season and we at the Choir are delighted to feature in no fewer than nine concerts.

But before we get started on that, we still have a few concerts up our sleeves this season.  Our final outing with the LPO brings a work rarely performed in the UK – Haydn's The Seasons.  The piece takes audiences through a year in the life of 18th century country folk – lads, lasses, peasants and hunters.  We're not sure whether we have the relevant experience to perform "booze-fuelled revels" but we'll give it our best shot!  The following week, to mark 150 years – to the day – since Berlioz's death, and hot on the heels of our gentlemen performing his Damnation de Faust in Manchester with Sir Mark Elder and the Hallé, we will join the Philharmonia Orchestra and Chorus under John Nelson for a performance of Berlioz's Grande Messe des Morts at St Paul's Cathedral on Friday 8 March.  Finally, we'll be wrapping up the year with some opera choruses, a performance of Beethoven's Symphony No. 9 and another 150th anniversary event – 1869 was a busy year!  Since then, charity Family Action has provided families and communities with practical, emotional and financial support and we'll be celebrating their amazing achievements with a fundraising concert at Middle Temple Hall.
So much still to do and, looking back, we had a busy 2018 filled with variety.  We kicked off the year with two charity projects which were rewarding both musically and in the causes they supported.  Firstly, Tippett's A Child of our Time, a concert organised by colleagues at the LPO for the Refugee Council's children's services which provides essential advice and support to unaccompanied children seeking asylum in England.  Then a recital at Buckingham Palace in the presence of Her Royal Highness Princess Alexandra, our patron, for the Princess's charities supporting those living with dementia.  We were delighted to be joined by the Bournemouth Symphony Orchestra, the Alzheimer's Society choir and Wigmore Hall's Singing with Friends at this concert and hope to continue to work with these and other charities supported by the Princess in years to come.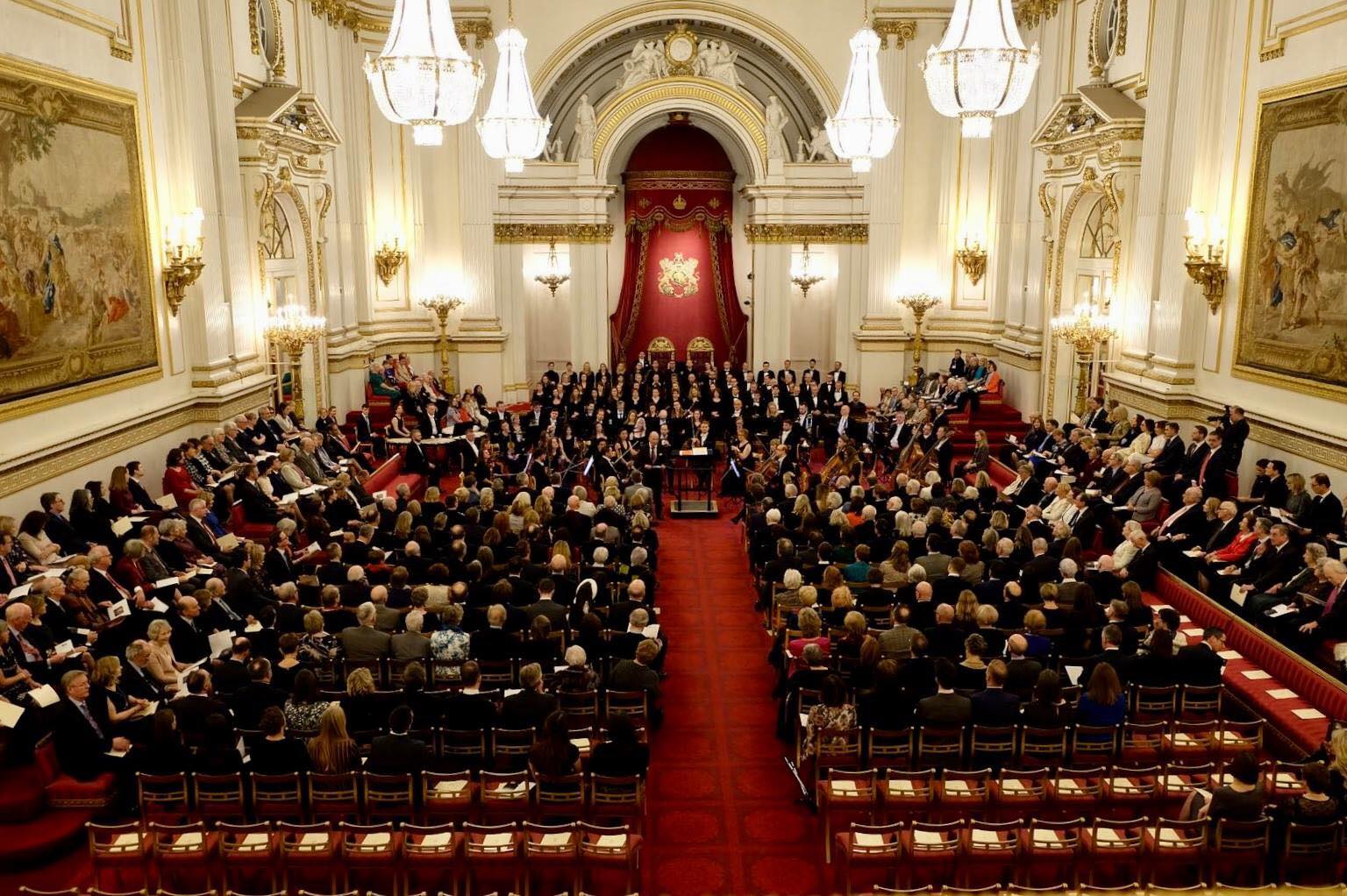 As well as our usual array of amazing concerts with the LPO, which in 2018 included works by Bernstein, Stravinsky, Poulenc, Orff, Rossini and Janáček, we were honoured to perform the world première of Magnus Lindberg's Triumph to Exist which was co-commissioned by the London Philharmonic Orchestra, 14-18 NOW: WW1 Centenary Art Commissions, the Gulbenkian Orchestra and the Orchestre National de Lille.  This piece saw the Choir's language skills challenged once again (this time with Swedish) and, as ever, our singers rose to the occasion and delivered an incredible performance followed effortlessly in the same concert with pieces in Latin and Czech.  During the summer, in a break from our usual venues, we performed two concerts at the British Museum featuring music from the home nations, including the world première of Paul Fincham's Awen which was commissioned by the museum to relish the acoustic in its Great Court.  Our other alternative venue was Abbey Road Studios, where we recorded tracks by Rob Northcott – watch this space for information about the release of those tracks.  Finally, in August, we were delighted to be back at the BBC Proms performing Verdi's epic Requiem under Andrés Orozco-Estrada.
So, what does 2019/2020 hold for us?  Well, for starters, barely a night off in October when we perform three Saturdays in a row at the Royal Festival Hall!  We begin with Verdi's Requiem conducted by Edward Gardner but that's just a gentle warm-up.  A week later we'll be revisiting another old favourite, Mahler's Symphony No. 2, with Vladimir Jurowski along with Renewal (the final movement of Metamorphosis), by Colin Matthews.  Finally, we're delighted to be welcoming our President, Sir Mark Elder, for a performance of Elgar's The Apostles – our first since we performed the piece with Sir Mark at the BBC Proms in 2012.  If that wasn't enough, our sopranos and altos will also be joining Thomas Adès for a midweek performance of Holst's Planets suite.  Just a single weekend off and we're back at the Royal Festival Hall in November with another of the great British choral works, Walton's Belshazzar's Feast conducted by Marin Alsop.

Five down, four to go!  In early 2020 we join conductor Bertrand de Billy for an evening of French music – Poulenc's Sept répons des ténèbres and Fauré's Requiem and then we're back under the batons of Jurowski and Gardner with Beethoven's Cantata on the Death of Emperor Joseph II and Janáček's Glagolitic Mass respectively.  Our final outing with the LPO is just for the tenors and basses as Sir Antonio Pappano leads them through Busoni's Piano Concerto.  I'm exhausted just reading through the list so we're going to need stamina and dedication from our members to deliver these concerts to the standard that has become expected from the London Philharmonic Choir.  It'll be a season to remember.
Returning to charitable endeavours, in 2019 we have the great honour of supporting Crisis's 10-year plan to end homelessness with various activities including releasing a charity recording of Paul Fincham's Christmas carol Ring the bells in December.  We'll be calling on choirs around the UK to join us in performing Ring the bells in support of Crisis, who will receive royalties from the sale of the track and the score.  More information about ways to support the Crisis project will be available shortly.
The link between all our activities is, of course, the joy of singing.  It is a widely held belief that singing, particularly as part of a group, makes you feel happy.  Whether it's the feeling of improved well-being our members experience by participating in LPC concerts, the impact of musical workshops on the mental health of children recovering from the trauma of leaving their homeland as refugees or the restorative affect of music on those living with dementia, we wholeheartedly agree with Confucius who said, "Music produces a kind of pleasure, which human nature cannot do without."  Here at the LPC, we feel blessed to be able to participate in such a vast array of choral concerts with world-leading orchestras and conductors.  We urge all of our supporters to join the choral experience by finding a choir that suits their tastes and abilities.  Check out our latest video featuring the views from our members about why they love being in the London Philharmonic Choir:
If we've whet your appetite, visit the Join us section of our website to find out how to become a member of the LPC.