To coincide with World Mental Health Day 2018, we spoke to an LPC member whose roles as music therapist, researcher and PhD student give her a unique insight into music and mental health. In the latest of our LPC Music Professionals series, Emma Windle tells us how a hobby can flourish into a rewarding career.
Beginnings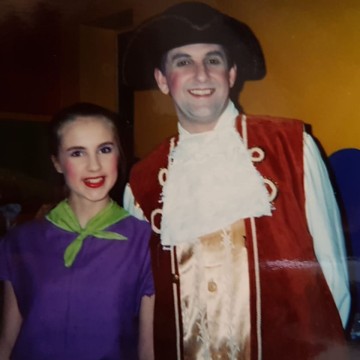 Q: What is your earliest music related memory?
A: My childhood was full of music so it isn't easy to pick out specific memories. My parents were (and still are) into amateur dramatics and I remember singing 'Castle on a Cloud' from Les Misérables in a variety show when I was about five. I've always loved musicals and used to watch Mary Poppins back-to-back and dance to the music in my favourite dress. I started learning the piano when I was seven and have a clear memory of the moment it 'clicked' whilst trying to play a motif from Wind in the Willows. From then on I started to really enjoy practising.
Q: Do you have a favourite composer?
A: I like a huge variety of music and my preferences usually depend on my mood. It's been really nice to get to know a wider range of choral music since being in the choir. A composer who never disappoints me is Fauré – his music for any instrument is just beautiful.
Hobby or calling…?
Q: Did you always want to work in music?
A: No. I actually stopped studying music after GCSE level as I found lessons were taking the enjoyment out of it. I did an undergraduate degree in psychology as I wanted to work with people and found the brain fascinating. I saw music more as a hobby and something to enjoy in my spare time.
Q: What was your journey into music therapy like?
A: I started to consider music therapy more seriously when I worked in a day centre for adults with learning disabilities. I was running music sessions there and loved seeing the huge impact that music was having; how it could enable people to connect with each other and express themselves.
I decided I wanted to complete the two-year Masters degree to become a qualified music therapist. I needed to gain a professional standard of musicianship as at that point, I had only taken grade 6 piano. I started singing lessons and after two years I took singing grade 8, applied to the Guildhall School of Music and Drama and was offered a place on their training course. That was when we moved to London.
The training course was challenging as it required me to re-examine how I thought about everything; music, relationships, beliefs about the world and my understanding of myself. The course requires everyone to undertake personal therapy: I found this a difficult process but also very rewarding.
The main approach used in music therapy in the UK is improvisational, meaning that you have to let go of the idea of 'performing' in sessions – you are always responding to the client and never know what might happen next! I am trained to work with clients of any age group and with any kind of diagnosis (or none at all). During the training I had varied placements in a special school, a mainstream primary school and an adult mental health unit.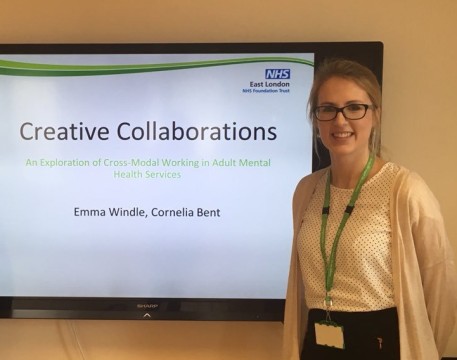 Since qualifying I have been researching group song-writing for people with chronic depression, and working in a school for children with profound and multiple learning disabilities. I have now embarked on a full-time, 3-year PhD focusing on patient preferences for therapy treatments in adult mental health services. I also run a weekly music therapy group on an older adult psychiatric ward.
Q: What does a normal day consist of for you?
A: Most days I am based in an NHS research unit in London where studies focus on social and community psychiatry. As I am at the start of my PhD, I spend much of my time reading journal articles and undertaking training. I am completing a systematic literature review and updating my statistics skills at the moment!
Once a week I run a group on a psychiatric ward. On that day I spend time on the ward meeting any new patients and letting everyone know that the session is happening. The group lasts for an hour and can involve free improvisation, group discussions or singing known songs. The main aims of the session are to help people express themselves verbally or non-verbally, to develop interpersonal connections and maybe to try something new or have fun. Then I clear up and write notes for the people who came to the session.
How music therapists relax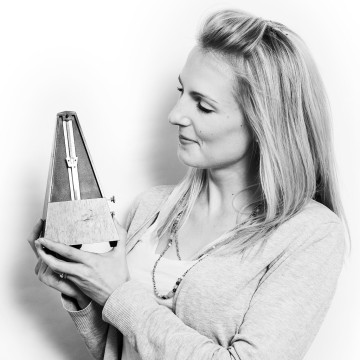 Q: What's been your favourite LPC concert so far?
A: I really enjoyed singing Beethoven's Ninth Symphony in the 2016 Proms. It was my first Prom performance and to sing such a well-known piece was a privilege. The ending was so jubilant that the audience leapt to their feet to give us a standing ovation. I felt overwhelmed by emotion but managed to keep it together and avoid bursting into tears onstage!
Q: We're currently preparing for a performance of Janáček and Stravinsky with a new piece written for the choir by Lindberg. What are you looking forward to in that concert?
A: It will be very exciting as we are covering such a range of pieces in different languages – Czech, Swedish and Latin. It's lovely to perform pieces that have been written especially for the choir and orchestra. It feels so special to be premiering the work of Lindberg in this Remembrance Day concert, marking 100 years since the end of World War One.
Q: You're working full-time on your PhD. How do you balance work with the commitment needed to be in the LPC?
A: One great thing about the LPC is its flexibility, so if I'm finding my load unmanageable I can choose which concerts to take part in. However, even when I'm really busy I find rehearsals the perfect way to de-stress and clear my mind. Singing has so many benefits that I think my commitment to the LPC will help me survive the PhD!
Come watch us
Saturday 10 November 2018
7.30 pm,  Royal Festival Hall
Vladimir Jurowski  conductor
Andrea Dankova  soprano
Angharad Lyddon  mezzo-soprano
Vsevolod Grivnov  tenor
Maxim Mikhailov  bass
London Philharmonic Orchestra
London Philharmonic Choir
Debussy  Berceuse héroïque
Magnus Lindberg  Triumph to Exist (world première)*
Stravinsky  Requiem Canticles
Janáček  The Eternal Gospel
*Triumph to Exist is co-commissioned by the London Philharmonic Orchestra and 14-18 NOW: WW1 Centenary Art Commissions (with support from the National Lottery through Arts Council England and the Heritage Lottery Fund, and from the Department for Digital, Culture, Media and Sport), the Gulbenkian Orchestra and the Orchestra National de Lille.