As our first post-pandemic season at the Royal Festival Hall draws to a close, soprano, Mariana Nina, goes full circle as she prepares to return to the stage performing music from the movies.
Combining two passions
In LPO and LPC's upcoming concert, we will be singing excerpts from three major films: Tim Burton's Alice in Wonderland, Tim Burton's Batman, and The Fellowship of the Ring. Not only is this a far departure from the Choir's more usual fare of classical repertoire, but it is a first for me personally. Classically trained, I am a singing teacher that spends each week covering opera, Lied, musical theatre, and even some pop/rock, but never the soundtracks of non-musicals – so this is novel.
Adding to this, this concert has immense meaning for me. It's the first I will perform in since the start of the pandemic, and its repertoire mirrors the concert we were preparing when the first lockdown was announced; a true feeling of picking up where I left off. Each rehearsal brings me tremendous joy at the simple fact that I am back where I belong, singing as part of a whole, my whole being relishing the voices around me. But the personal connection goes deeper: I absolutely love films. I watch as many Oscar nominees before the ceremony each year so I can cheer and boo along, I go to the cinema regularly, and have a respectable DVD collection. I even write a review blog for fun! So having the chance to sing movie music is the juxtaposition of two passions and a pretty fun one at that.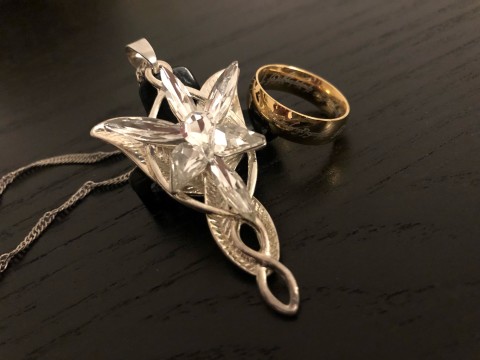 But what's the big deal, I hear you ask. What is it about film music that is so intrinsically different from more traditional choral repertoire? Well, setting aside the sheer geek pleasure of performing such familiar pieces (and having the perfect excuse to wear my Evenstar necklace), there is a fundamental difference in how the choral moments are planned and written. In the pieces we'll be singing, the choir is used almost exclusively as another set of instruments, creating soundscapes and atmospheres, colouring each moment. There isn't a big divide between orchestra and choir, with the former providing support, but rather we are an extension of the instrumental ensemble. This is particularly evident by the limited amount of lyrics we have – though twisting our tongues around Elvish has proved an interesting challenge! The choir parts being written in this instrumental-like way also gives us singers a change of perspective, with lines being constructed for their role in the overall harmony more than driving a melody.
While their roots are mostly firmly planted in the tradition of Western Classical Music, soundtracks have their own defining characteristics, first and foremost being the responsibility to enhance whatever action may be happening at that moment. Can you imagine Psycho without the stringent string chords? Or Jaws sans those unnerving semitones? Soundtracks are an essential part of the art of making films and I am overjoyed at having the chance to perform some.
Join us
We are always looking for new members to join the Choir.  If you are interested in singing with us, please contact the Membership team to arrange a discovery rehearsal and audition.
Come and hear us
Friday 25 March 2022
7.30 pm, Royal Festival Hall
Ludwig Wicki conductor
Colin Currie percussion
Grace Davidson soprano
London Philharmonic Orchestra
London Philharmonic Choir