This Saturday, we perform our last concert of the 2021/22 season, almost 75 years to the day since the Choir was formed.  As we celebrate our anniversary, Charlotte Cantrell, Diversity and Wellbeing Officer, asks what the LPC means to its members and looks forward to where the Choir will be in 75 years' time.
A lifetime of excellence
The London Philharmonic Choir is turning 75 this year. Since 1947 the LPC has worked under some of the greatest conductors in the world and has established itself as one of the finest choirs in the country. Musical excellence is something that we always have and always will aspire to: it is the reason for the Choir's existence. But society, choral singing and London itself are all very different in 2022 and we don't just want to create the best music, we want to do it whilst representing the whole of London on the classical and choral platform.
Creating a sense of belonging
The benefits of singing on positive mental health and wellbeing are well-documented. Many of our members will attest to this. Coming to a rehearsal after a long working day is the tonic that many of us need, and losing regular singing is something that we all struggled with during the long period of lockdown. It is therefore paramount that all members of the Choir feel a sense of belonging and inclusion within the community of the Choir and that we work hard to ensure that there is a place for every individual. In order for the whole of London to be represented by our choir, we need to make sure we are attracting the whole of London into it.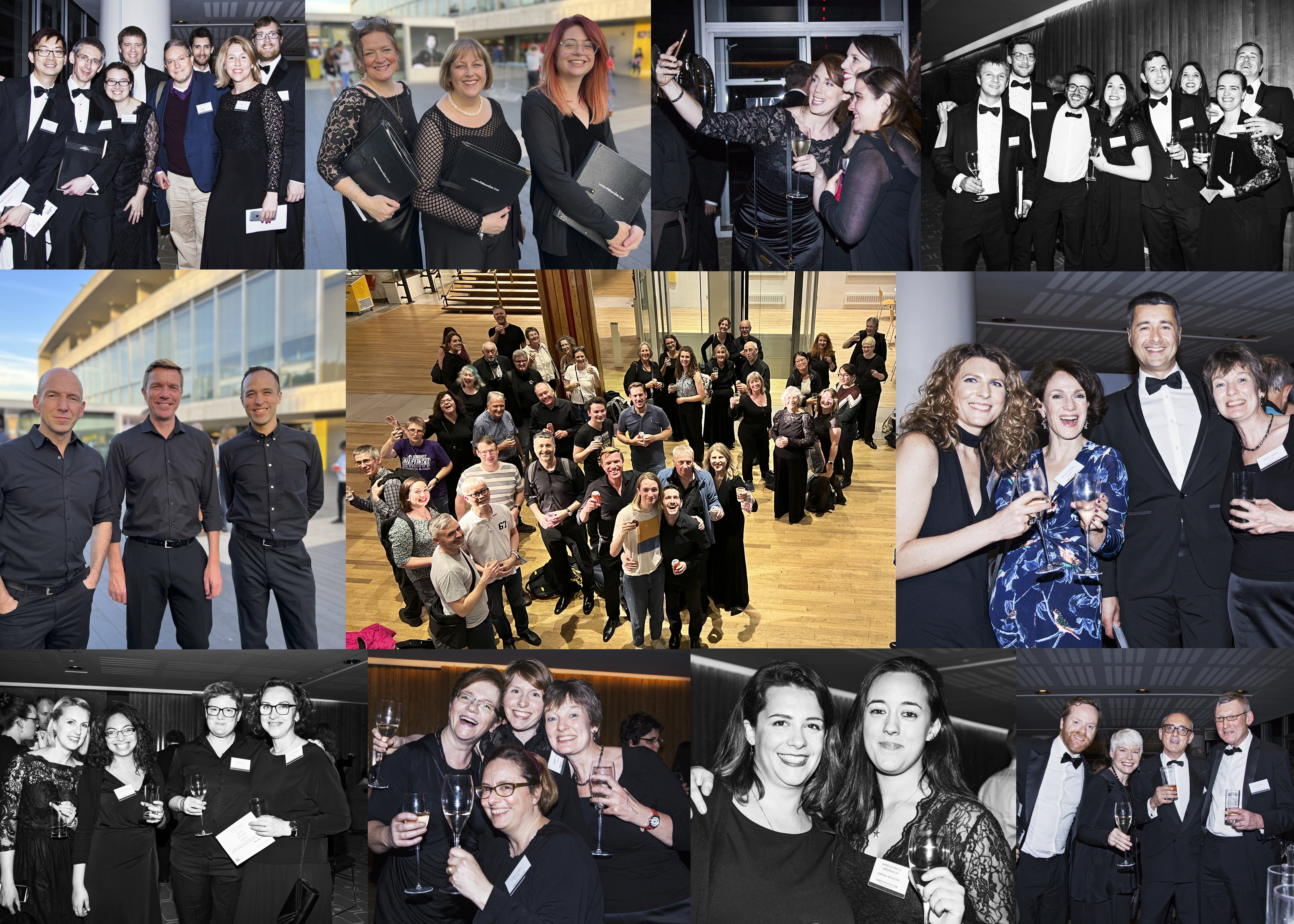 Central to this is our policy of inclusivity and accessibility. We are proud to have a rich history of LGBTQ+ members and supporters and have recently taken greater steps for greater inclusivity beyond lip service and friendship: we only categorise people by voice part, not gender; we have changed our dress code to all black (shirts and trousers or full-length dresses) which not only allows all members to be able to choose what they wear (without standing out, blending into one is the goal of any choir!) regardless of their voice part or where they stand, but also enables greater economic accessibility: good quality dinner jackets don't come cheap. We ensure a range of dressing rooms at concerts: Male, Female and Inclusive so that every single member can feel comfortable backstage. And this is just the beginning: we want to be proactive rather than reactive in ensuring inclusivity and I'm happy to have been appointed Diversity and Wellbeing Officer, ready to report members' ideas and thoughts to the Board.
Looking to the future
As much as celebrating our achievements in this anniversary year is important, so too is encouraging and nurturing the next generation of choral singers so that we can continue for at least another 75 years. Our recent work with the London Youth Choirs and the Rodolfus Choir does just that: making links with younger singers to create quality music is one of our big projects of recent years and allows us to increase the representation of a diverse London on the classical platform, as does working alongside choirs in 2022/23 such as the London Adventist Chorale and the London Chinese Philharmonic Choir. If classical choral music is to flourish, then it needs to be representative of our modern, diverse, exciting city. The LPC wants to be right at the heart of it, to 2097 and beyond.
Join us
To mark our 75th anniversary we asked our members to tell us what being in LPC means to them and have combined their feedback into the word cloud below, illustrating perfectly the abiding themes of an inclusive community of friends filled with fun and joy delivering professional music-making with the LPO. This is who we are and who we will continue to be for the next 75 years. We are always looking for new members to join the Choir.  If you are interested in singing with us, please contact the Membership team to arrange a discovery rehearsal and audition.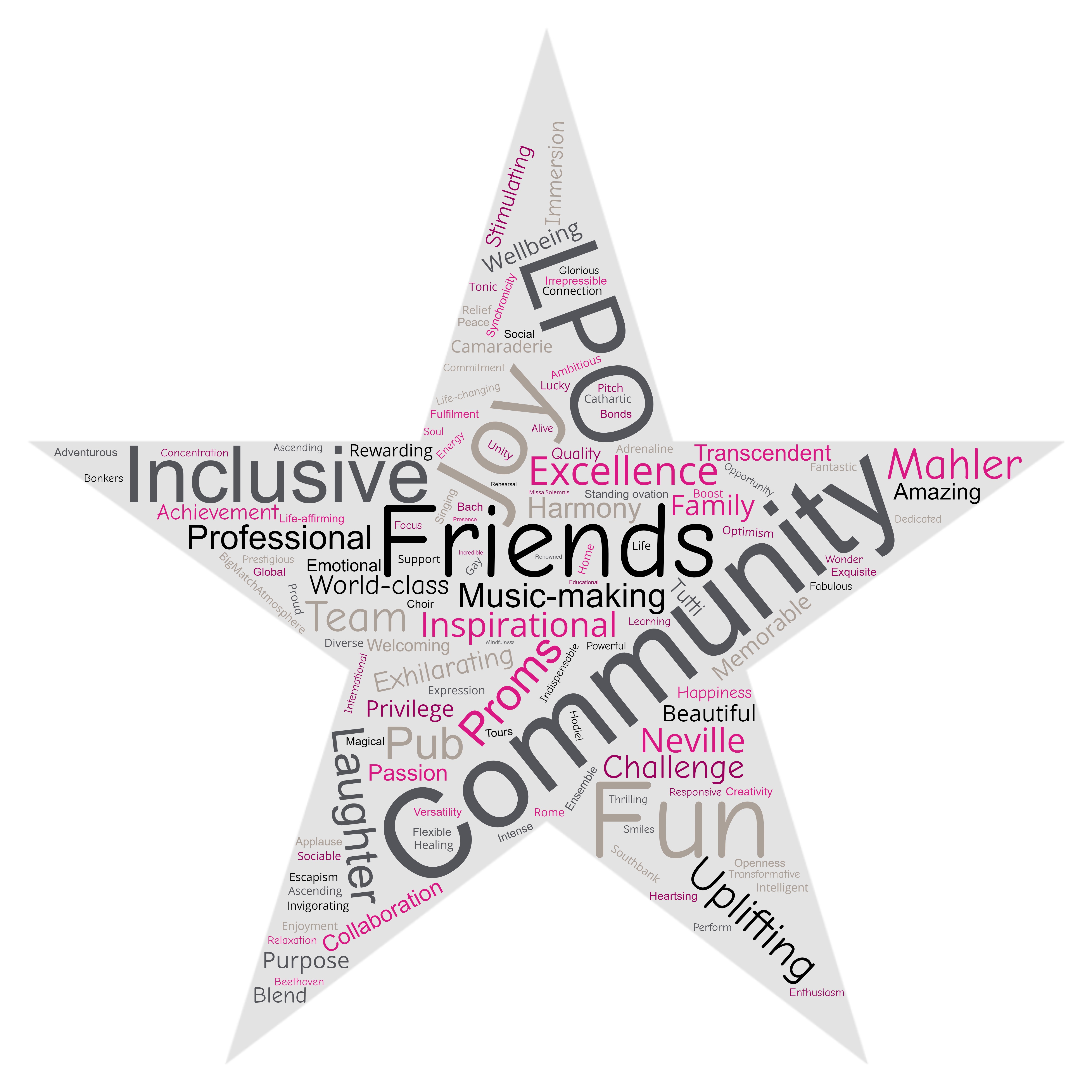 Come and hear us
Saturday 2 April 2022
7.30 pm, Royal Festival Hall
Edward Gardner conductor
Christiane Karg soprano
Roderick Williams baritone
London Philharmonic Orchestra
London Philharmonic Choir
The Rodolfus Choir