About the Choir
The London Philharmonic Choir was founded in 1947 as the chorus for the London Philharmonic Orchestra.
Working under conductors such as Boulez, Elder, Gatti, Haitink, Jurowski, Masur, Nézet-Séguin, Norrington, Rattle, Solti, Tennstedt and Welser-Möst, the Choir has always met with critical acclaim. Now widely regarded as one of the nation's finest choirs, we perform regularly with the LPO and other world-class orchestras at major venues and festivals throughout the year.
From time to time we tour abroad – recently to Budapest, Paris, Lucerne, Rome, Athens, Spain, Germany, the Czech Republic, Poland, the Canary Islands, and further afield to Hong Kong, Kuala Lumpur and Perth. In January 2004 we were invited to sing in the Vatican's Papal Concert of Reconciliation. We have also built up an impressive discography throughout our history and continue to participate in recordings for CD, radio and television.
Our standards are high, but it's not all hard work – we're a very friendly and relaxed choir, enjoying not only the singing but a bit of socialising too. You'll find out more about what we do – including information about joining us – on the following pages.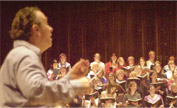 "The orchestral playing was wonderfully vibrant, and the choral singing outstandingly secure and controlled throughout, the polyphony crystal clear over a wide dynamic range."
Beethoven Missa Solemnis, Elder
The Guardian
Concerts in 2017 and 2018 include
Bach Christmas Oratorio Vladimir Jurowski
Beethoven Symphony No. 9 Andrew Nethsingha
Beethoven Symphony No. 9 Kazushi Ono
Bernstein Chichester Psalms Andrés Orozco-Estrada
Fauré Requiem Oliver Gooch
Haydn The Creation Sir Roger Norrington
Mahler Symphony No. 8 Vladimir Jurowski
Mozart Requiem Nathalie Stutzmann
Orff Carmina Burana Hilary Davan Wetton
Rossini Stabat Mater Carlos Miguel Prieto
Schoenberg Gurrelieder Sir Mark Elder
Stravinsky Ave Maria Andrés Orozco-Estrada
Stravinsky Credo Andrés Orozco-Estrada
Stravinsky Pater Noster Andrés Orozco-Estrada
Stravinsky Perséphone Thomas Adès
Stravinsky Symphony of Psalms Andrés Orozco-Estrada
Tallis Spem in Alium Neville Creed
Tallis Spem in Alium Vladimir Jurowski
Tippett A Child of our Time Edward Gardner
Pēteris Vasks Dona nobis pacem Andrés Orozco-Estrada
Next concert

Pēteris Vasks Dona nobis pacem
Wednesday 25 October 2017
7.30 pm, Royal Festival Hall
Andrés Orozco-Estrada conductor
István Várdai cello
London Philharmonic Orchestra
The Lay Vicars of Westminster Abbey
London Philharmonic Choir
Shostakovich Cello Concerto No. 1
Pēteris Vasks Dona nobis pacem
Gregorian Chant Dies Irae
Rachmaninoff Symphonic Dances*
* In co-operation with the Serge Rachmaninoff Foundation.
The Lay Vicars of Westminster Abbey appear by kind permission of the Dean and Chapter of Westminster.