Susi Underwood, our Alto Rep, has been helping us with our pronunciation in the Brahms Requiem, and looks back on Maestro Kurt Masur, to whom our performance on April 9th is dedicated.
The Altos Get the Good Bits
It is always an absolute joy to perform the Brahms Requiem, especially as an alto, as Brahms, very kindly, has given us most of the good bits, including some wonderful tunes. In no sense is it a traditional requiem: he did not set the text of the Requiem Mass to music, but a selection of Bible passages, giving comfort to the living.
The first movement sets the scene with a passage from the Beatitudes: "Blessed are they that mourn, for they shall be comforted" (Mt 5:5). We are taken on a seven-movement journey, which concludes where it began: with the word "selig" (blessed).
The second movement is a great example of the exquisite journey towards consolation. It starts off in a rather sombre mood and sets the scene of a funeral march, including a realistic imitation of a stuttering heartbeat courtesy of the timpani. The general anxiety and gloomy message about our mortality is interrupted by a few episodes of light relief and a reminder of the coming of the Lord. After what seems like a small eternity, suddenly Heaven opens widely: we are dragged into blinding sunlight by an army of angels with fanfare trumpets and find affirmation of eternal life in a joyous fugue.
This is one of the reasons why the Brahms Requiem is such a joy to sing: the gloomy moments never last very long and every movement concludes in consolation and very often in pure joy.
For Kurt Masur
It is highly appropriate that we, the London Philharmonic Choir, will dedicate our performance of the Brahms Requiem on 9 April 2016 to the former Principal Conductor of the London Philharmonic Orchestra, Kurt Masur, who died in December at the age of 88.
We were lucky enough to perform the Brahms Requiem with Kurt Masur in St Paul's Cathedral in October 2006. The concert was broadcast live on BBC Radio 3. The performance went very well and everything was fine until there was a massive rumbling sound in the 6th movement. I first thought it was some thunder outside, then realised that it was the maestro enriching the performance with a solo for screaming conductor. The timpani were louder than he wanted them to be and when they did not respond to his frantic gestures to quieten them down, he took a slightly less subtle approach: "TIMPANI, NOT SO LOUD!!!!!", he thundered at them. This solo could be clearly heard on the radio broadcast.
This episode demonstrates Kurt Masur's most striking characteristic. He was more than passionate about music: he lived it and expected everyone else to be just as passionate about it. If a passage did not sound as he envisaged it, he would repeat it in rehearsal until he got exactly what he wanted: "I vill rehearse until you get it rrrright".
He could be extremely terrifying, but when he achieved the desired result, he turned into a big fluffy teddy bear. I fondly remember a performance of Felix Mendelssohn's Elijah at the Proms where the lead soprano got more than her fair share of stick in the rehearsals. After she had delivered an amazing performance, she was rewarded with a massive hug.
German Reunification
I first became aware of Kurt Masur on 2 October 1990, the eve of German Reunification, when he conducted a festive concert of Beethoven 9 in Berlin which was broadcast live on German television. He was the Principal Conductor of the Leipzig Gewandhaus, a position that was held by Felix Mendelssohn some 150 years earlier. Kurt Masur was instrumental in keeping the October 1989 demonstrations in Leipzig non-violent and peaceful. These demonstrations were the first step towards German Reunification.
I only realised the extent of Kurt Masur's involvement 10 years later from the many commemorative broadcasts on German television. By that time, I had heard some of his stunning performances on the radio and I very much hoped that I would have the opportunity to see him live in concert one day. Less than a year later, I had sung in my first concert under his direction, his welcome concert as the new Principal Conductor of the London Philharmonic Orchestra.
Kurt Masur was of a generation of German conductors that tended to be rather conventional and safe in their interpretations. He did not fit that pattern at all. His performances were never boring and he would not just stick to the traditional German Romantic repertoire. One day we found ourselves on the stage of the Royal Albert Hall performing with Wynton Marsalis, a gospel choir, and the London Philharmonic Orchestra under the direction of Kurt Masur. It was not just an experience, but an Experience.
Another memorable concert was a performance of Mendelssohn's incidental music to A Midsummer Night's Dream with Timothy West providing the spoken passages. Kurt Masur got very frustrated with the orchestra when they did not pay enough respect to such a great artist. The problem was that Tim West worked from a full score with tiny notes for his cues, so his delivery was a bit ropey. In the performance, he came in with the wrong cue, which meant that about half a movement had to be skipped. In spite of these shortcomings, it was a wonderful and exciting performance.
The LPO commemorated the 60th anniversary of the end of World War II with a performance of Britten's War Requiem under the direction of Kurt Masur. The rehearsals were haunting and educational at the same time. During the war, at the age of 17, Masur was on compulsory military service and he conveyed his life experience in the rehearsals. He would not give us simple musical instructions, but it would be something like: "Friends, have you ever suffered and seen your friends die?". We had to live the piece, not just perform it. Fortunately, our effort pleased the maestro so much that he decided to reward the choir with a reception in St James's Palace, laid on by the orchestra. He never did things by halves.
Kurt Masur's rehearsal on the Brahms Requiem was also quite a memorable occasion. He spent a very long time trying to convey the full meaning of the word "selig". It is usually translated as "blessed", but he put particular emphasis on the happy connotation. I think "blissful" would capture it quite well. He did not have to use English words to translate it: his face and his smile were enough to get the message across.
No Jellyfish shall touch Them!
It is always quite interesting to sing works in German with an English choir, as some of the pronunciation can be a bit tricky, to say the least. The Brahms Requiem is a particularly dangerous piece, as there are quite a few words that could cause severe misunderstandings. German listeners may be wondering why "no jellyfish shall touch them" until they realise that it is torment (Qual) that sounds like jellyfish (Quall[e]).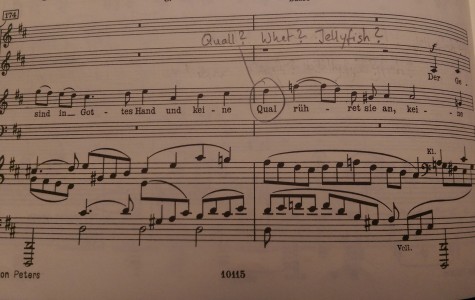 A very dramatic moment can easily lose its impact if hell (Hölle) turns into a cave (Höhle): "Cave, where is thy victory?" does not quite sound as dramatic as intended by the composer.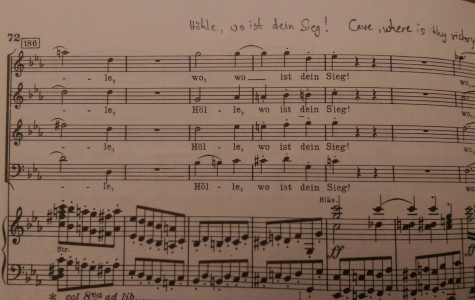 Pacifists may wonder why all these armies are being praised. Well, that is what happens when "Herr" (Lord) turns into "Heer" (army).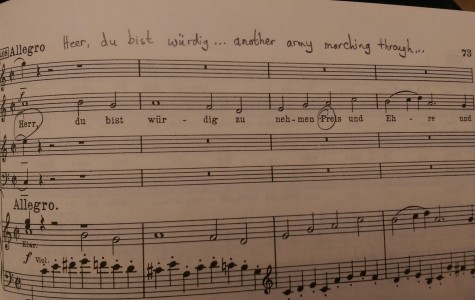 Not all the linguistic danger areas are specific to English, or any other non-German speaking, choirs. Sloppy consonants are universal and can lead to some hilarity. When the choir joins the soprano soloist in the fifth movement and, instead of "Ich will euch trösten" (I will comfort you), chimes in with "Ich will euch rösten" (I will roast you), one might wonder what kind of cruel mother Brahms had to deal with.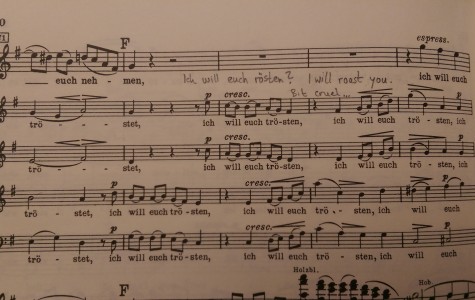 I hope that our performance in April will be free of any linguistic howlers and I will do my best to help with the language coaching to avoid too many jellyfish moments. The Brahms Requiem is one of the most rewarding pieces to perform, especially for the altos, and I am very much looking forward to our concert. I hope you will join us, either as a singer or in the audience!
London Philharmonic Choir will be performing Brahms Requiem at the Royal Festival Hall on 9 April under Christoph Eschenbach with the London Philharmonic Orchestra. Book Now >>