Christmas is an exciting time for all choral singers, as our December diaries fill up with a variety of carol-singing events.  This year, Christmas is even more special for bass, Paul Fincham, who has composed a new carol to be performed by the Choir at our Classic Carols concert on Wednesday 20 December.  We talked to Paul about his work as a professional composer, singing in the LPC and his forthcoming debut at the Royal Albert Hall.
Tickling the ivories
Q: What is your earliest music related memory?
A: We had a piano in the hall at home, I would have heard my mum play – she was an accomplished pianist – and probably any or all of my older siblings.  I remember I struggled to work out from the configuration of ivories and ebony (which is what they would have been in those days) which note was middle C so I would count up from the bottom of the keyboard to find it.  I just stopped doing that recently.  The first piece I could play from memory was Raindrops Keep Falling on my Head which I must have played literally hundreds of times – best known of course from the wonderful bicycle sequence in Butch Cassidy.  Perhaps this is why I cycle everywhere now.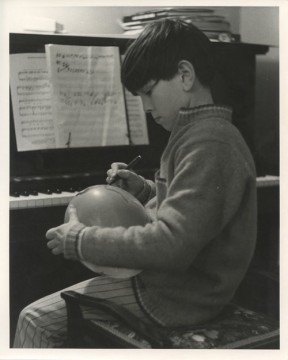 Q: You studied music at Cambridge but didn't pursue a music career initially, what made you decide to return to music and have a second career as a composer?
A: I have always been drawn to film music, the relationship between music, images and narrative fascinates me and film music plays to what I think are my strengths.  I was introduced to the producers of Summer in February five years ago by its writer, Jonathan Smith – that project didn't work out for various reasons but was the catalyst for my return to composing and I haven't looked back since.
Q: Any compositions from your youth that you might revisit?
A: Not sure – I wrote a rock opera at school and a number of songs for Cambridge Footlights (not least for Emma Thompson who was Aladdin in the 1979 Christmas panto).  No immediate plans to revive these but you never know….  I am certainly not against self plagiarism – nor were Handel or Mahler!  In fact, the central chorale in my new carol, Ring the Bells, was adapted from a piece for piano and cor anglais that I wrote a couple of years ago.
Q: Do you have a favourite composer?
A: I probably have a number of favourites embracing a very wide gamut of musical genres such as Handel, Tchaikovsky, Gershwin, Lennon and McCartney, Gabriel Yared.  If I was forced to name one it would have to be J S Bach, though when it comes to piano music for me to play Haydn gives him a run for his money!
Music for the movies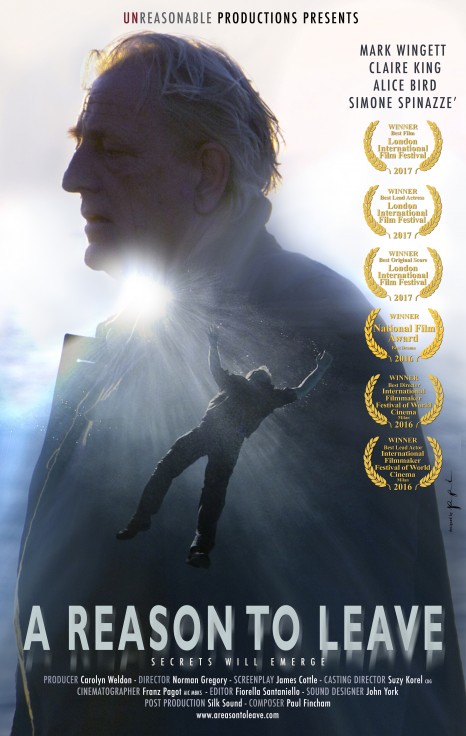 Q: You won the award for best original score for your first feature film A Reason to Leave at this year's London Film Fest International, what's next for you in the world of film music?
A: A Reason to Leave was Norman Gregory's first film, made on a shoe string budget, and it has collected half a dozen or more awards.  I have started working on Norman's next film due for filming in 2018 with sumptuous settings in Tuscany and Dorset.  Provided the producers support my appointment this should be my next film.  As for other projects in the pipeline, I am more interested in the quality of films I work on than knocking out three or four scores a year!  Nor do I want to limit myself to film music – I have other choral projects in mind.
Q: How does composing a film score compare with composing a Christmas carol?
A: There are a lot of differences, different challenges and so forth.  I think most film scores and all Christmas carols need to have a catchy theme giving the audience something they can get hold of on first hearing.  There is a lot of process in composing for film and some pretty complex technology which you need to be on top of, in fact one challenge is not to be distracted from the music by becoming a computer geek!  Choral writing needs a lot of attention to detail, dovetailing four or more parts – even before you start thinking about the text underlay to each part.
Q: You're a singer yourself, does that help when composing choral music?
A: Definitely.  What helps most is countless – I mean countless – hours of rehearsing.  There is no better musical training than singing in a choir.  I first joined the LPC more than 30 years ago and have had some amazing singing experiences in this choir.  One that's always remained memorable was performing Beethoven's 9th symphony under Tennstedt in the ruined amphitheatre at Pompeii.
Festive flair
Q: What influenced you when composing Ring the Bells, your first Christmas carol?
A: Certainly 30 years of rehearsing and performing with a world class choir like the LPC informed much of my thinking about how to write for choir.  Everyone in choirs of this kind gives up their time for free – I think a composer should be mindful of that and not make unreasonable demands of the singers.  I wanted to write something which could be brought to performance standard on a minimum of rehearsal time but nonetheless exploit the Choir's strengths.
Q: Having your carol performed at the Royal Albert Hall is pretty impressive, what's next after that?
A: I was thrilled to be asked by the Choir to compose a carol for their Christmas concert and the prospect of hearing the LPC perform Ring the Bells to a packed out Royal Albert Hall is hugely exciting.  I have a secret aspiration to record it next year as a Christmas single and target Classic FM, but let's see how it goes.  The Royal Albert Hall is a very special place me with some poignant memories such as my father coming to hear the LPC's Verdi Requiem at the proms in 2011, when he was 101.
Q: What's your favourite thing about Christmas?
A: There is much I like about Christmas including of course the music, I think music you have known and loved since your childhood has a special poignancy through association.  Though of course, I am keen that we should also hear new music at Christmas!  I normally enjoy spending Christmas in Suffolk with assorted siblings and their families though this time I will be in Australia praying that England make a come back in the Ashes……….. I shall be dismayed if I miss a white Christmas here in the UK.
Paul Fincham is represented by SMA Talent.  A short video featuring interviews and clips from the rehearsal and concert premiere performance is available on Paul's Vimeo page. For further information about Paul's music visit https://www.facebook.com/paulfinchamcomposer/
Come watch us
Toby Purser  conductor
Benedict Nelson  baritone
Alan Titchmarsh  presenter
London Concert Orchestra
Band of the Coldstream Guards
London Philharmonic Choir
Classic Carols