In 2017, the London Philharmonic Choir commissioned and premièred Ring the Bells, a new Christmas carol by composer Paul Fincham.  This year, the carol has been adopted by homeless charity, Crisis, to help raise awareness of their plan to end homelessness.  The London Philharmonic Choir invites choirs around the UK to perform Ring the Bells this Christmas in support of Crisis's campaign.
Everybody In
Homelessness is at critical levels in the UK and is set to rise to more than 300,000 by 2041 if action is not taken.  Crisis's plan to end homelessness "outlines the evidence-based solutions that can end homelessness in Great Britain, built round the belief that everyone should have – and is ready for – a safe, stable place to live.  It contains solutions for the long term, rather than to suit current political favour, building on what has worked at home and abroad to end homelessness.  The plan shows the costs of preventing and solving homelessness for people, along with the policy changes needed to get us there."

PricewaterhouseCoopers LLP have estimated that the total costs of supporting homeless people to achieve Crisis's plan of ending homelessness between 2018 and 2041 is £19.3 billion but that investment will deliver benefits of £53.9 billion.  So, investing in long-term solutions could save the UK £34.6 billion.
Connected by our Patron, HRH Princess Alexandra, the London Philharmonic Choir is honoured to be working with Crisis and urges choirs around the UK to join the campaign and end homelessness for good.
Hear the Bells
Watch clips from the 2017 world première of Ring the Bells at the Royal Albert Hall and hear insights from the composer, conductor and some of our singers.
Get involved
The London Philharmonic Choir, London Symphony Chorus and Crouch End Festival Chorus have already committed to performing Ring the Bells in their 2019 Christmas concerts.  Your choir can join the campaign to end homelessness by performing Ring the Bells in your own Christmas concerts and carol services.  The score is available from Boosey & Hawkes and all composer royalties are being donated to Crisis.  As well as performing the carol to raise awareness of Crisis's campaign, we are encouraging choirs to fundraise with retiring collections and sponsorship events.  If Crisis does not have a centre near you, why not fundraise for your local homeless shelter and let singing bring a positive impact to those living with homelessness in your own community?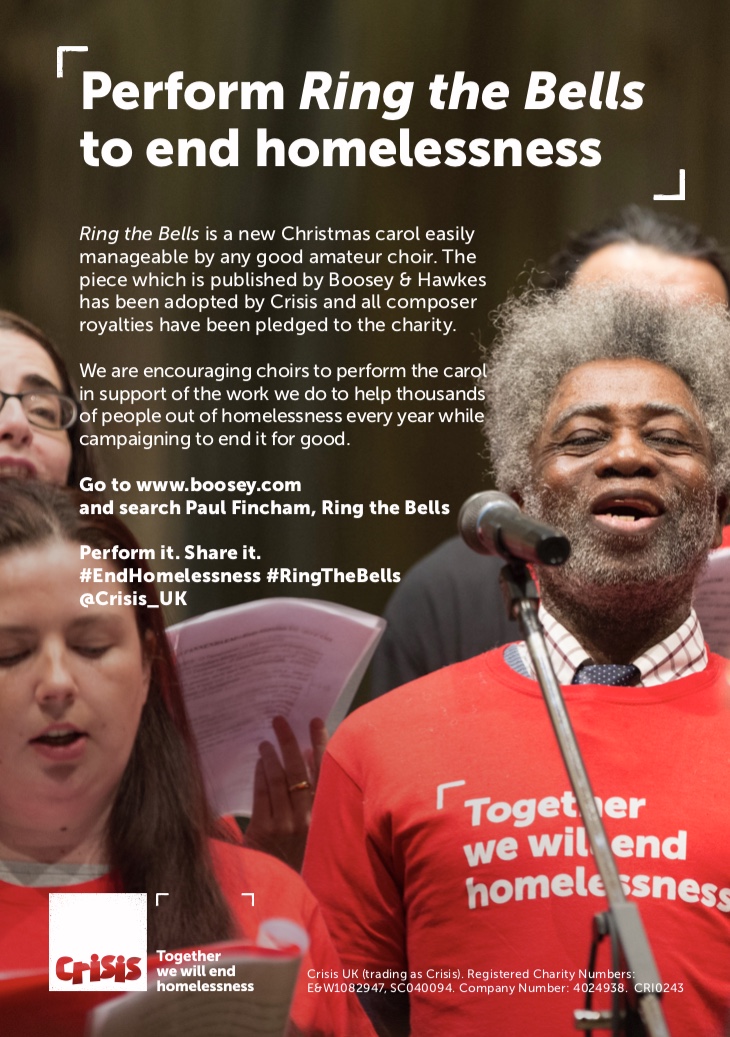 Read our FAQs about this project or contact our Chairman, Tess Bartley, on chair@lpc.org.uk if you have any further queries.
Come watch us
Christmas with Alan Titchmarsh
Saturday 14 December 2018
7.30 pm,  Royal Festival Hall
Toby Purser  conductor
London Concert Orchestra
London Philharmonic Choir
Tickets available from the Southbank Centre.