Continuing our LPC Music Professionals blog series, we talked to soprano Rachel Topham who's carving out a marketing career in music publishing and looking forward to performing Bernstein and Stravinsky in our next concert with the London Philharmonic Orchestra.
Vincerà! Vincerò!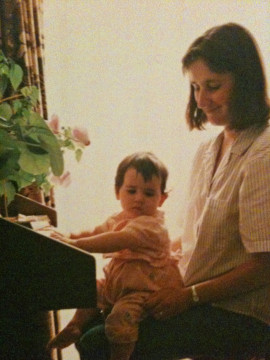 Q: What is your earliest music related memory?
A: My singing career began when I was a toddler! It was 1990 and Pavarotti's World Cup Nessun Dorma was constantly on the radio. I remember standing on the coffee table, singing along with the king of the high C at the top of my voice, much to the amusement of my parents! I also recall the very first time I saw a live orchestra. My mum took me to the ballet to see The Nutcracker. We were sitting in the stalls and at the interval we walked down to the front to peer over the railing into the orchestra pit. I had to be dragged back to my seat for the second half – I wanted to watch the orchestra, not the dancers!
Q: Do you have a favourite composer, if so who and/or which composer's music has most influenced you?
A: You can't ask a musician that, it's not fair! But if I had to name one, it would probably be Beethoven. His music has always spoken to me in such a direct way that I don't find with other music I love. My first instrument is piano, and I love to sit at the piano and play Beethoven sonatas to my heart's content. I'm also a big fan of Sibelius and, since joining the choir, have developed a growing love of Mahler!
Going to press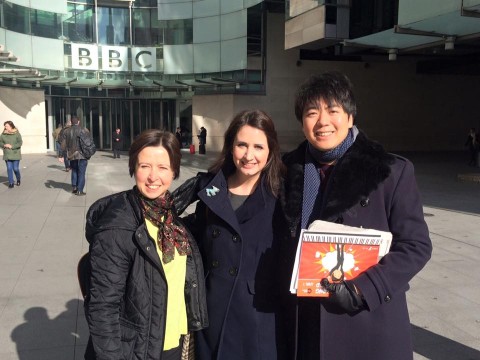 Q: Did you always want to work in music?
A: I was one of those people who hated being asked, "what do you want to do when you grow up/leave school/graduate?" Music has always been such a big part of my life, but I was an all-rounder at school and even looked into reading maths or chemistry at university. When it came to the crunch and I had to make decisions about my future, music was always something that I simply couldn't give up; it was (and is) a massive part of who I am.
Q: What was your journey like into the music business?
A: After graduating with a music degree from Royal Holloway, I had a notion that I wanted to be a film score orchestrator or to work for an orchestra. I landed a marketing internship with the Royal Philharmonic Orchestra and there discovered I had a flair for marketing. I really connected with the idea of having a job that was essentially telling others how amazing music is! From then on, I couldn't think of doing anything else. I spent a few years in marketing outside of the music industry, but the draw to music was too great, and I joined Faber Music.
Q: What's it like to work in music publishing?
A: For me, it's extremely varied – anything from crafting the marketing plan for the release of a new educational music book to attending an exhibition, from writing press releases and liaising with an artist's management for their book launch to accompanying Lang Lang for an appearance on The One Show. It's not always glamorous though – there's a lot of hard work that goes on behind the scenes in getting a book out there in front of people, but it's really rewarding being part of the team that gets to do that.
Eager for Igor
Q: What's been your favourite LPC concert so far?
A: I've sung with the choir for two years and, in that time, I've been a part of so many incredible performances. My first ever performance was Brahms' Requiem in the Royal Festival Hall – a venue that I've been to many times as an audience member. Standing up and singing such a moving work in front of that audience will stay with me for the rest of my life. Since then, I've sung the most amazing music – Tallis's Spem in Alium, Mahler 8, the Christmas Oratorio – in the most amazing venues – Abbey Road Studios, the Ballroom at Buckingham Palace, the Royal Albert Hall – the list goes on. Each time I sing, a new favourite comes along.
Q: We're currently preparing for a performance of Stravinsky and Bernstein choral music. What are you looking forward to in that concert?
A: I'm really enjoying the challenge that Stravinsky's choral music brings. I find that I understand his music a little more after each rehearsal and it is satisfyingly demanding. I'm looking forward to getting together with the LPO and seeing what we sound like with the unique orchestration of the Symphony of Psalms – no upper strings or clarinets! – which gives added exposure to the choral tone. I love Bernstein's Chichester Psalms, having previously performed it at university, and it's great to have our very own in-house Hebrew speaker (shout out to Yaron in the bass section!) to make sure we're doing the text justice.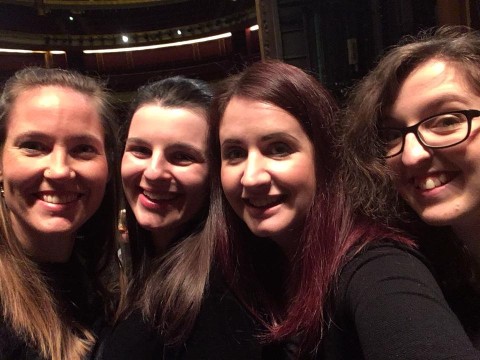 Q: You're working full time in publishing, how do you balance work with the commitment needed to be in the LPC?
A: Singing with the LPC is a commitment you have to be serious about, but it's also remarkably easy to make it work with your own timetable.  So much so that I'm able to work a full time job, study for a professional qualification and sing in the concerts I want to at the same time. I find it incredibly useful to be able to see the rehearsal and concert schedule in advance each season so I can plan which concerts I sign up to and know I can commit 100% to that concert. The choir is also extremely sociable and I've made some wonderful friends here – it's a joy to come to rehearsals to catch up with friends, sing amazing music and escape the stresses of everyday London life for a few hours a week.
Come watch us
Saturday 24 March 2018
7.30 pm,  Royal Festival Hall
Andrés Orozco-Estrada  conductor
Patricia Kopatchinskaja  violin
London Philharmonic Orchestra
London Philharmonic Choir
Stravinsky  Symphony of Psalms
Stravinsky  Violin Concerto
Stravinsky  Credo
Stravinsky  Ave Maria
Stravinsky  Pater Noster
Bernstein  Chichester Psalms