In June, the London Philharmonic Choir will be performing a programme of music representing the four home nations in the Great Court of the British Museum.  In our latest LPC Music Professionals blog, we talked to Welsh tenor Luke Phillips who spends his days working at English National Opera and will be serenading our audiences into the night with Ar Hyd y Nos.
And they were singing, hymns and arias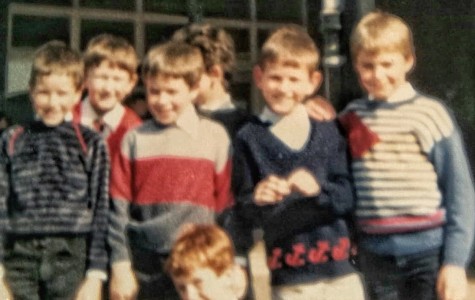 Q: What is your earliest music related memory?
A: One of my first memories would be sitting in my parents' garden banging the life out of my mother's saucepan collection, organising them by pitch and loudness. My mother was much relieved when I showed more culinary interest in said saucepans, but the relief was short lived when she realised that her kitchen was left in no better state when I was cooking.  I sang through most of my childhood in Chapel and School.  I became an Alto Profundo at an early age, quickly launching me into the world of harmony singing and the need to read music, which was helped by my learning the violin and piano.  I think it's safe to say my singing range as an adult goes higher than it did when I was a child.  As a teenager, I was fortunate to be scouted for a leading chamber choir in Wales, and from there my experience in classical choral singing grew.  While studying composition and conducting at University, I still kept up quite a busy singing schedule, as well as playing the oboe which I took up at the age of 16.
Q: Did you grow up in a musical family?
Being brought up in chapel, Hymns and Arias from the pews was always a part of my family life.  My father sang with a local male voice choir, but it's not something I had much interest in.  To this day, I'm sure my dislike of (massed) Male Voice Choirs and Brass Bands makes me a national disgrace to Wales!  No one is quite sure of where my passion for classical music, particularly early music, came from. Bach (Welsh for little one) had only been a nickname in my family until I came along, but I think hearing Vivaldi's Four Seasons and Handel's Water Music accompanying TV adverts was definitely the start of it. Many years later I learnt that my Uncle Dai had sung with the Cardiff Philharmonic and, after his death, I inherited all of his scores, fully hand notated with sol-fa. To this day I wish I had known Wncwl Dai a lot better.  Elijah was one of the first concerts I did with the LPC and I used his score for the early rehearsals.  Having been taught sol-fa at Sunday School, his notes helped me pitch some of the more awkward intervals – it was a bit like when Harry Potter found that book of spells in The Half Blood Prince.
Q: Do you have a favourite composer, if so who and/or which composer's music has most influenced you?
A: As a singer, I think it has to be Purcell.  Being a high-tenor, both his tenor and alto lines mostly lie comfortably within my vocal range.  I find his sense of line and word-setting to be natural and beautiful, allowing me to express musicality with great freedom.  There have been many occasions where I have performed semi-staged performances, with other groups, of works by Purcell, Handel and Britten.  I always found Purcell's music easier to memorise as it feels more natural.  As a symphonic chorister, we don't perform much Purcell, but I find something similar in the music of Mahler.  Mahler's 2nd symphony remains one of my favourite pieces to perform as it has such a sense of line running through it with vast dynamic range that is not often called for by other composers.  Having said that, I've always refused to perform Mahler's 8th symphony, that's too big and loud for me.
A Welshman in London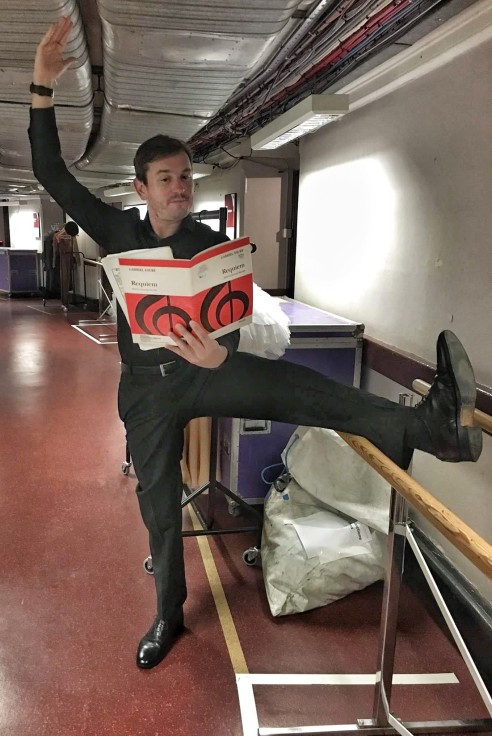 Q: What was your journey like into the music industry?
A: Having studied music at university, I always wanted it to feature in my professional life.  Growing up in a rural setting my exposure to the music industry was very limited.  Once I decided that I did not want to teach, it was certainly a challenge trying to get into the industry without any contacts.  I didn't go straight into working in the music industry, and pretty much ended up there by chance.  Whilst at university I got involved with the student newspapers, writing features and working on desktop publishing.  After graduating, I moved to London and started working in 'old fashioned' printing, with Commonwealth Bodies and Telecommunications publications.  From there I progressed into the world of dot com, where I learnt most of my computing and organisational skills.  I rode quite a few dot com waves so decided it was time to find something more stable and the desire to return to music was growing.  That was the point when I took up a short contract at English National Opera in their technical department and, 15 years later, I still seem to be there!
Q: What does a normal day consist of for you working at English National Opera?
A: My working week is always a mix of the familiar and the unexpected as my role is quite wide-ranging.  Being on the technical side, I get to use my skills in developing digital systems and data management whilst being involved in a creative arts field.  Work varies from regularly ensuring that people are scheduled and paid correctly to writing database applications to help with more complex forward planning.  The industry is an ever-changing environment and the challenges constantly change with it, there is never a dull moment.  Having a knowledge of the opera repertoire certainly comes in handy with one of my projects at the moment where I'm re-creating the performance history of the Company going back to the early days in Sadler's Wells.  My IT skills gives me the ability to meaningfully record and publish information, whilst my musical knowledge gives me the ability to question and correct wrongly attributed artistic information in historical documents.
Ar hyd y Nos
Q: What's been your favourite LPC concert so far?
A: I have had many amazing experiences with the LPC, but for my favourite we need to go back to 2004 to The Damnation of Faust with Mark Elder and the London Philharmonic Orchestra.  It was my first time working with Mark Elder and he's never disappointed since.  For me the combination of the work, the performers and the conductor just made the concert so special and it's very rare to have everything so perfect.  The piece itself is so wonderfully dramatic and fun and with so much French text to deliver, often at speed, was a great challenge.  Working with Mark, as well as  many other conductors, is quite demanding but also extraordinarily rewarding when we do it well.  The demands placed on an 'amateur' choir are often no less than those placed on professional choruses, and in some cases I think they're even greater.  I have learned so much from Mark and Vladamir [Jurowski] over the years with regards to musical performance, delivery of text and the psychology behind the music.
Q: We're currently preparing for performances of Celtic themed music.  What are you looking forward to in those concerts?
A: These concerts are going to a nice trip down memory lane for me.  It's been a very long time since I have sung in Welsh, and getting to do some solo work in my mother tongue is going to be a treat.  The first time I performed on a London stage I was an 11-year-old boy competing with my school choir accompanied by a harp, so having Tomos Xerri accompany us in these concerts will bring back so many fond memories.  However, I hope this audience will look less bewildered than they did back then, I think a bunch of 'hillbillies' singing in Welsh with a harp accompaniment was a bit too much for the Royal Festival Hall audience back in 1987.  It will also be a great experience performing the premiere of Awen (meaning poetic inspiration), a new composition by composer and fellow singer Paul Fincham.  Having recently done a 'run through' of the piece with a small number of singers, I'm very much looking forward to experiencing it with a larger choir – and larger acoustic!  Performing new compositions is something I have (mostly) enjoyed from an early age so I'm excited about premiering something with Welsh inspiration that is both singer and audience friendly whilst also being rewarding to sing.  Just how much coaching I can give on the pronunciation of Awen, the sole Welsh word in the piece, remains to be seen by the singers really!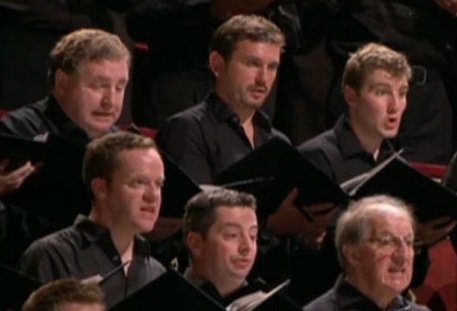 Q: You're working full time in the arts, how do you balance work with the commitment needed to be in the LPC?
A: I'm fortunate that my employment gives me a great deal of flexibility these days as my work is so unrelated to a 9-5 environment and I'm often found working late into the night and weekends trying to get computer systems to behave.  It also helps that we mostly perform on the South Bank, which is just the opposite side of the river to my office.  On days where we have daytime tutti rehearsals I'm often found walking backwards and forwards over the bridge.  The biggest challenge for me comes from trying to balance the LPC with other singing commitments and my practise and teaching of yoga.  I always have to be careful with my diary when agreeing to large scale works due to the demands of the rehearsal period.  If I'm absent from the LPC for other singing commitments, I always miss the social aspect that comes from singing with the friends I have in the choir.
Come watch us
Thursday 21 June 2018
Saturday 23 June 2018
7.30 pm,  British Museum
Neville Creed conductor
Tomos Xerri harp
Alexandra Lomeiko violin
London Philharmonic Choir
Dowland  Come Again
Paul Fincham  Awen* (world première)
James MacMillan  O Radiant Dawn
Stanford  The Blue Bird
John Rutter  A Gaelic Blessing
Tallis  If Ye Love Me

Plus arrangements of traditional music including:
Ar hyd y Nos
Loch Lomond
Londonderry Air
Molly Malone
O Waly Waly
Suo Gân
* Commissioned by the British Museum for this concert series.