The choir enjoyed a magnificent BBC Proms performance last week of Verdi's Requiem with the London Philharmonic Orchestra, Guest Principal Conductor Andrés Orozco-Estrada, and soloists Lise Davidsen, Sarah Connolly, Dmytro Popov and Tomasz Konieczny. It's always a joy to sing at the Royal Albert Hall, but a Proms performance is always that extra bit special. In the lead up to the performance, LPC Marketing Manager Rachel Topham spoke to alto rep Susi Underwood about what she was looking forward to…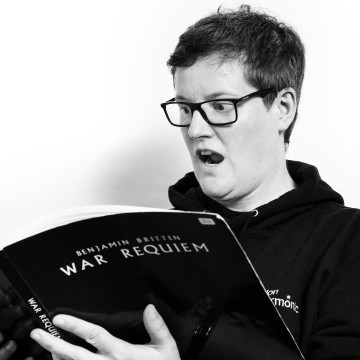 Q: What are you listening to at the moment?
A: I have an arena season ticket for the Proms, so if I am not rehearsing or performing myself, I can be found somewhere in the arena listening to an incredible amount of music condensed into 8 weeks. Highlights over the season include two concerts by the wonderful Budapest Festival Orchestra and the Bernstein centenary celebrations.
Q: If you could meet anyone performing at this year's Proms, who would it be?
A: I would love to meet Dame Sarah Connolly. She has been a great inspiration for my own singing for a long time. Apart from being a great singer who has made so many genres her own, she has also demonstrated that women can produce a perfect countertenor sound. We were lucky to perform with her on several occasions and she comes across as a wonderful person.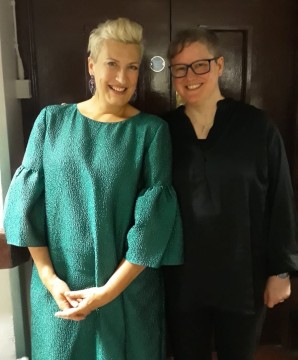 Unfortunately, the mezzo soprano who was due to sing with us for the Verdi Requiem had to pull out of the performance, but luckily for Susi, she was replaced by none other than Dame Sarah Connolly herself. We leapt at the chance to fulfill Susi's wish and introduced them to each other after the concert!
Q: What do you do when you're not singing?
A: We are very lucky in this country in that most of the big professional choirs are made up of amateur singers, which means that we get to perform at a world-class level without our livelihood depending on it. In my day job, I work as an office manager at Imperial College, just across the road from the Royal Albert Hall. I love my job, especially the contact with the students. I love it almost as much as I love singing – it is also very convenient for the Proms, as it takes me about 5 minutes to get from my desk to the Hall!
Q: What's the biggest challenge you've faced as a singer?
A: When I first moved to London, one of the first things I did was to audition for the London Philharmonic Choir. My first concert was Britten's War Requiem, which is quite a challenging work to sing at the best of times. As I joined the choir halfway through the rehearsal, I was thrown in at the deep end and my first concert turned out to be quite a terrifying experience.
Q: What has been your most exciting musical 'discovery'?
A: Learning a new choral work is always an exciting discovery and I love getting to know the works from the inside. My most exciting discovery was probably Brahms' German Requiem. It is very unusual for a requiem in that the libretto moves away from the Requiem Mass and comprises passages from scripture, which are very comforting. It is not so much a Mass for the Dead but consolation for those left behind. What I particularly love about it is that all the movements involve the choir and there are some of the most beautiful choral alto lines ever written. It is always such an uplifting experience to sing it – or listen to it, for that matter.
Q: What are your Proms highlights this year?
A:I very much look forward to the performance of Mahler's Third Symphony with the Boston Symphony Orchestra, the CBSO Chorus and Youth Chorus, and Susan Graham, conducted by Andris Nelsons. Mahler's Third Symphony is a very powerful work, especially the angelic singing in the fifth movement followed by the long drawn-out intensifying last movement. Andris Nelsons is such an exciting conductor that this performance should be very special indeed.
My other personal highlight is the return of Sir Andrew Davis to conduct the Last Night of the Proms after 18 years. It feels a bit like reconnecting with an old friend after a long time. I am sure he will receive a very warm welcome from the prommers and it should be a very joyful occasion indeed.
Hear the choir's performance of Prom 64 Verdi's Requiem on BBC iPlayer Radio 3, available for one month.