Jane Hanson, LPC soprano, clearly remembers as a young child at school being read a ridiculous 'nonsense poem' called The Dong with the Luminous nose and then as a class being directed to draw pictures of what they imagined. Her classroom wall was covered for weeks with wild and wonderful images of sea green and sky blue people dancing, sailing in sieves and seeking a lost love. Never did she imagine then that, more than 40 years later, she would be singing in a fascinating and moving new choral commission of the very same poem – one of the greatest 'nonsense poems' by the renowned Victorian poet, traveller and artist Edward Lear – whose story, language, and imagery with its enchanting and sorrowful fantastical landscapes, cries out to be heard.
How, she wondered, had that happened? What on earth made someone decide to compose a new Cantata for chorus based on this strange and somewhat unknown romantic poem, and why had the London Philharmonic Orchestra, jointly with the Boston Symphony Orchestra, commissioned Elena Langer – a successful Russian composer – to create this fantastical new piece. The only way to find out was of course to have a conversation with Elena herself. During their chat, Jane discovered that Elena's entire musical journey and creative pathway to this point has been inspiring and fascinating. She had so many questions to ask and started with the one she was most intrigued by.
How did you come across this somewhat strange and melancholic English poem written in the 1870's, and what moved you to compose a new choral and orchestral work based on this ballad by Lear?
I have a feeling for poetry and its rhythms and metaphors – one line if it's well written goes straight to your heart, it immediately has an impact. I was introduced to The Dong with the Luminous Nose by a journalist friend and immediately I felt it was like that.  It has everything – it's a very imaginative text with a great story. Also, I like humour in music and in life – which this poem has – but this is also a sad poem which touches the emotions, and so it was perfect to tell a story with and great to write this piece for.
My mentor, friend and teacher, Dmitiri Smirnov – who sadly died in the first weeks of Covid – translated a lot of English poetry into Russian so this English thing is close to me. I was also influenced by Kharmes, a Russian poet who was writing during Stalinist times and who wrote poems about cats which inspired me to write songs about cats. I remember reading The Dong with the Luminous Nose to my son 10 years ago and when I was sitting on a bench on Hampstead Heath in 2021, after I had been commissioned by the LPO to write a piece, I had a Eureka moment as this poem popped into my head and I knew it was the perfect poem to use.
When did you first begin to compose and how did you move from that to becoming a well-established international composer based in the UK?
My mum was a musicologist and solfège teacher which I loved – the maths of music – it's very round and we had to sing things like Chopin etudes together and write musical rounds. Solfege is everything to do with the meat of music so it's great for understanding harmony and how it works, it's a very practical thing. My mum was also a teacher at the music school so of course she encouraged me to 'write music'. I remember when I was 6 years old, I was cutting out music notes from velvet paper and attaching them to the music stave. I was also playing the piano and I studied music theory and started composing when I was 12, but I wasn't confident enough to do it specifically until later on. My mum noticed I was making up strange chords and took me to a composition teacher at the music school and that's how it started.
At 15 I went to the Gnessinsky Music College in Moscow where I wrote my first formal composition, a series of short Prokofiev-like pieces for piano. Then at 19 I went to the Moscow Tchaikovsky Conservatory for five years majoring in composition but also giving two or three piano recitals a year, studying the history of music and analysing harmony and polyphony. I had five unbelievable, fun and intense years there, it was great. 'I wouldn't be a composer if I didn't have a good teacher – he inspired me – and that's a rare thing.
How did you then come to London?
Well it was love actually. At 19, I fell in love with, and married, a young Ukrainian whose family had emigrated to the US and then come to Moscow where they met at a party. He worked for various government agencies, but life was politically tough in Moscow and so he found a new job which just happened to be in London. Of course, I wanted to go with him, but I was still studying so we were separated for two years. Finally, I came here in 1999, without a word of English, but I knew I had to study, or I thought I would go mad. I applied to lots of colleges and was offered a place at the Royal College of Music where I studied with Julian Anderson and did a Masters. There I learned lots of contemporary music and techniques which, added to my solid classical Russian musical background, gave me a great breadth of knowledge and experience. I then went on to study for a PhD at the Royal Academy of Music and it was while I was studying there that I was appointed as Jerwood Composer in Association with London's Almeida Theatre and began collaborating with other artists including the poet Glyn Maxwell – who incidentally read The Dong with Luminous Nose at my birthday party recently.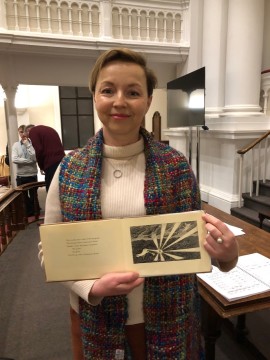 How did this new commission come about?
Elena Dubinets who used to run the Seattle Symphony and is now the Artistic Director of the LPO, heard my opera Figaro gets a Divorce which had been staged by WNO in 2016, and approached me to ask if I would write a suite based on this opera. I did this and it was premiered in Seattle three years ago. It also became popular with other orchestras so Dubinets came back to me and asked me to write a new piece for choir and orchestra. I'd used chorus in my operetta but never written in a concert context for a choir – it's completely different so I had to think carefully about what kind of text to use. Religious texts didn't resonate with me and if you choose a poem and set it for a big chorus something is lost so I realised I needed a story, for it to be a little opera for chorus. That's when I had my moment on the bench and thought of The Dong with the Luminous Nose.
Dubinets had also asked me to avoid using vocal soloists for this piece as it would be too expensive and so I chose to use the cello as the solo voice and wrote it for my old friend Kristina Blaumane. Kristina is not only the passionate and brilliant principal cellist of the LPO but also a wonderful international soloist who has performed with many renowned artists and is also a keen promoter of new music. She has given a number of world premieres and several works are dedicated to her, among them cello concertos by Dobrinka Tabakova, Kristaps Pētersons, Pēteris Plakidis, Artem Vassiliev and now this wonderful new piece by Elena Langer.
The virtuoso cello solo also plays various roles in a way it might be the soul of the Dong. The Jumbly Girl has no voice in the poem, but perhaps the cello represents both her and the Dong. Sometimes the cello competes with the orchestra or has a dialogue with the chorus.
Come and hear us
Saturday 18 March 2023
7.30 pm, Royal Festival Hall
Andrey Boreyko conductor
Kristina Blaumane cello
London Philharmonic Orchestra
London Philharmonic Choir
Victoria Vita Polevá Nova (world première)
Elena Langer The Dong with a Luminous Nose (world première)
Shostakovich Symphony No. 5