Later this month, the choir will be performing at one of the most famous concert series in the world – the BBC Proms. In this mini blog series, our Marketing Manager Rachel Topham spoke to a few members about what singing with the LPC and performing at the Proms means to them ahead of the big night, beginning with soprano Jane Hanson…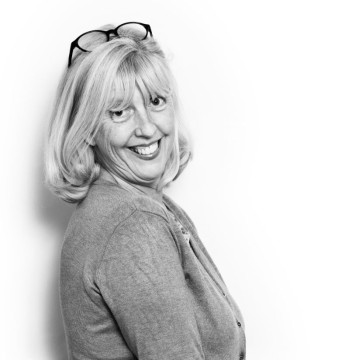 Q: What do you do when you're not singing?
A: I am a specialist learning mentor, which I love, and I have an endless waiting list of families, and children queuing at my door and working in my kitchen.  I also put on a few musical events and write some articles, but I spend most of my 'spare' time running One Day One Choir which right now is taking up my life!  I love it of course and I'm delighted that it has taken off and is doing so well now.
Q: What are you listening to at the moment?
A: Not much in musical terms really to be honest, my head is so full of things that need to come out that silence is the main 'sound' in my office and my home at present – and I'm working hard to listen to my inner voice and intuition more.  Having said that, I do switch on the radio in my car and catch a bit of Radio 4 or ClassicFM every now and again and I have a constantly repeating ear worm of the song on the new One Day One Choir promo film, Together as One! I'm also planning to listen to a CD of Norma which was given to me recently by a fabulous young Russian soprano, Vlada Borovko, who is singing on it and who has been recently been performing at the Royal Opera House.
Q: If you could meet anyone performing at this year's Proms, who would it be?
A: There are always so many amazing people to see and hear at the Proms.  I'm lucky to have interviewed and met quite a few of them so I would choose someone I don't know and who I think I could learn something from or hear really interesting stories from, and I'd like it to be someone young as there are so many wonderful young people performing in the Proms this year.  So, given the choice, I think I'd go for Sheku Kanneh Mason because I've been watching him for 2 years since he won the BBC Young Musician of the Year award, and he's an amazing and talented musician with a fascinating family and life story – he's also from Nottingham, which is where I'm from!  Even though he's still a teenager, he's already giving back by giving money to his old school to fund music lessons for 10 more pupils as he realises how important it is to get these opportunities when you're young – he passed his grade 8 aged 9 and won an ABRSM scholarship to join the RAM's junior academy the same year. He's also pretty good at maths and physics, so we could have a good old chat about that too.
Q: What has been your most exciting musical 'discovery'?
A: I think my most exciting musical discoveries are not pieces of music but the incredible powers that music has to impact us at so many different levels. For example, entrainment – in other words it can make our hearts all beat at the same tempo; and that it can improve our health in countless ways or pull communities together.  I've learned an amazing array of things about the power of music and its fascinating scientific and healing properties and I've been lucky to make programmes about that for BBC Radio.  I've also put some of these amazing properties into action more recently in the creation of One Day One Choir, which is all about uniting people through a common voice and using the power of singing together to bring harmony to communities.  Did you know that singing together bonds people more quickly than any other activity – and that singing regularly in a choir improves your immune system, for example?
Q: What is your highlight at this year's Proms? (apart from the Verdi, of course!)
A: That's an almost impossible question to answer as there are so many wonderful concerts, talks and and special events.  The choice this year is better than ever and I'm really struggling to choose something here, but as you've asked I'm going to say Prom 38 – or 39 – which are both the concert version of Bernstein's Westside Story; it's so popular they've had to run it twice.  I'm hoping to get a place for one of the performances and that will definitely be a highlight for me if I do!
Q: And finally, What does singing Verdi's Requiem at the BBC Proms mean to you? 
A: The Proms season is always an exciting time in the British Music Calendar and I can't wait to be singing in The Proms again this year with the LPC – especially as it's the Verdi Requiem; singing it in the Royal Albert Hall as part of the Proms is always exciting and has that extra edge so it's no surprise to me that this Prom has been sold out for weeks and weeks.
I couldn't say how many times I've sung it before (quite a lot) or how long it is since I first sang in a Prom (too long ago to mention here) but I've always loved this piece and never tire of singing it.  The highs, the lows – fff and ppp speaking, the operatic drama and more spiritual quiet moments, fabulous solos and quartets and of course, the vaguely James Bond theme music style of the opening bars to the Dies Irae!
Special memories include learning it with Claudio Abbado, who taught us that every 't' should be a 'd', being lucky to sing it with the amazing Klaus Tennstedt who always directed the most magical of performances; an eerie and deeply moving performance with Daniel Gatti in Ghent Cathedral which became a shocking and unexpected memorial tribute to those lost in the World Trade Towers as they were being attacked and collapsing while we were rehearsing in Ghent on the 11th September 2001; and of course a memorable and exciting performance with the LPO and Vladimir Jurowski in 2015. I'm sure this Prom's performance, directed by the much sought-after and dynamic Columbian conductor Andrés Orozco-Estrada, will be another great one to add to the list!
Come watch us
Thursday 30 August 2018
7.30 pm,  Royal Albert Hall
Prom 64
Andrés Orozco-Estrada  conductor
Lise Davidsen  soprano
Karen Cargill  mezzo-soprano
Dmytro Popov  tenor
Tomasz Konieczny  bass
London Philharmonic Orchestra
London Philharmonic Choir
Verdi  Requiem